Jan des Bouvrie X SZ 63
+2
"After the war, Martin was one of the most pioneering designers in the Netherlands. So during the time that I owned a shop in Amsterdam's P.C. Hooftstraat, it was only natural for me to invite him to display his furniture there. That was in 1971. In fact we even made a catalogue, containing both our works. But then we knew each other for much longer, since back when I was still a student at the Kunstnijverheidsschool, the predecessor of the Rietveld Academy. At that time, I often visited Annie Apol, the stylist at De Bijenkorf, for lunch. Martin would often join us. I have such great memories of that time, we talked about nothing but art and design.
Later, he designed for 't Spectrum while I designed for Gelderland. We both had our own styles, of course, but simplicity was a guiding principle for both of us.
That philosophy also underlies this design. Funnily, I didn't take inspiration from just the SZ 63, but also from the pillow of his famous sofa bed. I just love that detail: a simple gesture that single-handedly turns the sofa into a multi-functional thing. I incorporated that idea into this chair: by expanding the sides, it turns into a kind of small attached table. It simultaneously does away with the need for an occasional table [Dutch: bijzettafel], a word I've always disliked, in fact. I dedicate this new chair to Martin Visser, an amazingly creative man in all respects who also had a very good eye for art – as you can tell from his collection – but who above all was a wonderful person."
SZ 63 (1960)
The SZ 63 may appear no different from the SZ 64 at first glance, but in the SZ 63 Visser applied the principle of the standard seat shell. Here, the seat and backrest form a single whole. By using an ideally proportioned and comfortable seat shell in a variety of models, it was possible to create different armchairs while keeping a relatively small stockpile of components. Visser first applied this idea in 1958 with his upholstered Spectrum armchair Laag Keppel.
Jan des Bouvrie
Jan des Bouvrie (1942) made the modern, primarily white interior available to the general public. He studied at the Kunstnijverheidsschool in Amsterdam, which later became the Gerrit Rietveld Academy, and began his career in his parents' furniture store in Bussum.
He broke through in 1969 with his Kubusbank (Cubic sofa), designed for the furniture manufacturer Gelderland. It has since been incorporated into the collections of Centraal Museum and Stedelijk Museum. Jan des Bouvrie is a celebrated product designer, interior designer and art collector. At its heart, his works are based on symmetry and a desire to reduce things to their simplest forms.
In 1991 he purchased Het Arsenaal in the city of Naarden, and with his partner Monique des Bouvrie developed it into one of the Netherlands' leading design studios.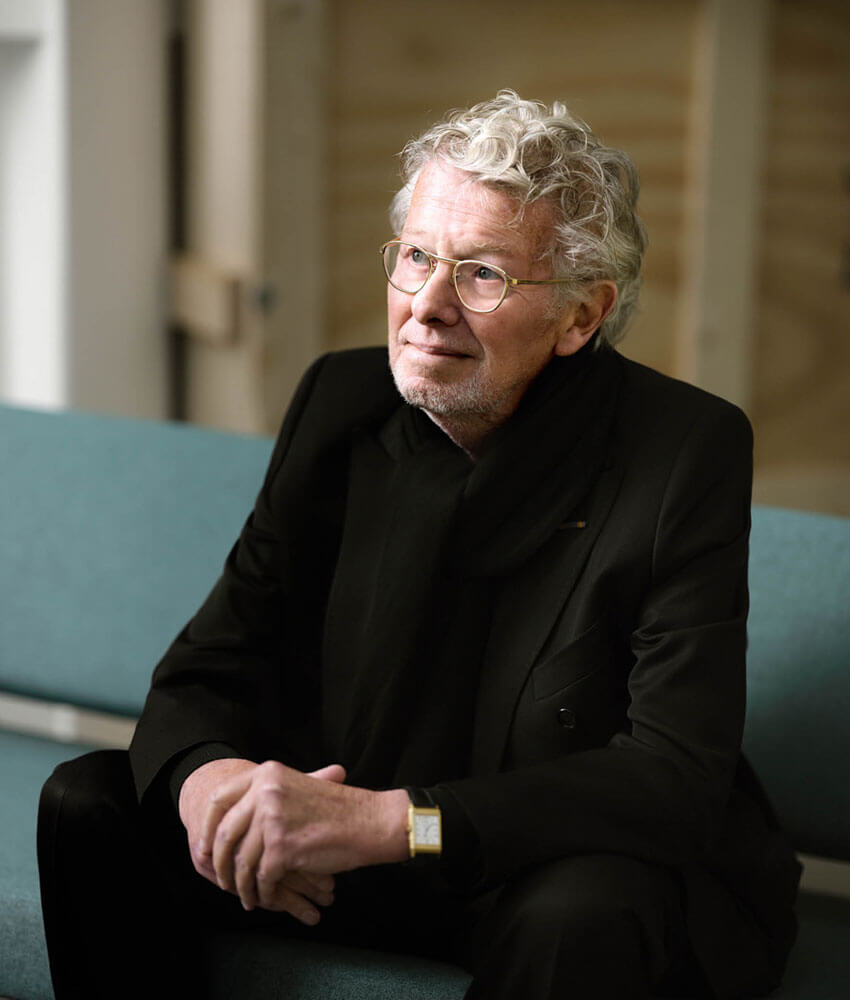 More designers of Tribute to Visser